The initial keel inspection shows the leading edge of the foot all the fiberglass has worn from one small spot. I expected that so no surprise. This section hangs below the boat and is always rubbing over what ever I happen to run over. All the bottom paint along the lower leading edge from the foot up about 8" has been worn away. Running over sand bars will do that.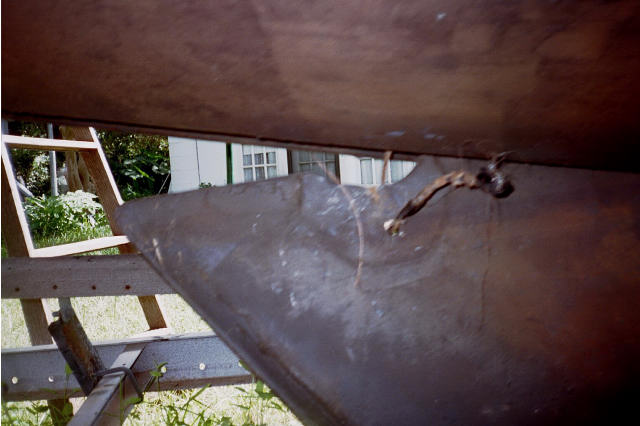 Jacking up the stern of the boat to expose the pendant hole on the keel I receive on of those pleasant surprises. If you kept up with what I did last year to the keel then I am pleased to announce every thing looks real good and my plan last year seems to have worked perfectly. If you are unfamiliar with past keel issues go back and read some of the other keel maintinance pages for past adventures with the swing keel.
The keel pendant winch has seen better days. I nursed it along last year but it needs replacing. The pendant looks like a cross between a porcupine and a snake, might as well take care of both. A standard boat crank winch is purchased the handle off the old winch. The bolt pattern of the new winch is different so the old holes must be filled with polyester resin and new holes drilled.
Oct 25 2001 the keel was stuck in the up position it was freed by chopping down the pendant tube and inserting a screwdriver and beating the keel down. Electrical Duct Putty has been recommended as a way to seal the pendant tube. After pendant tube surgery the tube is about 2" high. The putty goes in and stays in. I find it doesn't keep water out of the boat any better than other ideas used. While doing post trip cleanup I find the rubber tube the previous owner used. An idea comes to mind, un-winding the pendant from the winch; the rubber tube is fitted over the pendant tube. Once the pendant is wired back to the winch the keel is lowered electrical putty is stuffed in the rubber tube. As the pendant is cranked up the putty is formed around the wire. Now there is a two-stage plug. What water gets forced up the first gets trapped in the second. I won't know till later when "Don't Ask" goes back out.